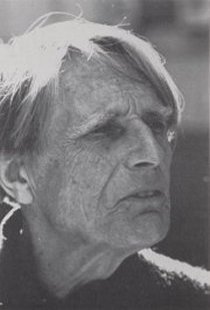 S.W. Hayter, 1901- 88 (Michael Parkin Fine Art Ltd.)
'The Renaissance of Gravure, the Art of S.W. Hayter' P.M.S. Hacker,
Clarendon Press Oxford 1988, Catalogue de la Retrospective de l'Exposition
au Ashmoleum Museum, Oxford, 11 octobre- 27 novembre 1988
BIOGRAPHICAL NOTE ON S.W. HAYTER
by P.M.S. Hacker
Stanley William Hayter was born in London in 1901. Among his many artist ancestors was Sir George Hayter, portrait and history painter to Queen Victoria. Unusually for an artist, he had a scientific education, reading for an Honours degree in chemistry and geology at King's College, London (1918-21). His scientific training, mathematical ability and lifelong interest in the natural sciences inform his art. Topological transformations, super-imposition of one space upon another, non-Euclidean spaces, wave motion and moiré interferences of fields in continuous deformation characterize his imagery at various stages in his career as painter and printmaker. His technical innovations in colour printing were the work of a man equally at home in laboratory and in atelier, in whom artistic sensibility and scientific curiosity were fused. His experiments on visual perception at the New School for Social Research in New York(1941) led to a deeper understanding of formal effects in visual art and he continued with comparable investigations at Atelier 17 throughout subsequent years.
After university Hayter worked as a chemist for the Anglo-Iranian Oil Compagny in Persia(1922-5). However, his decision to become an artist had already been made. While stationed in Abadan he drew and painted extensively. On his return to England he exhibited his work with success. In 1926 he went to Paris, then the art center of the world. He briefly attended the Académie Julian, and gravitated towards avant-garde artistic circles, making friends with Balthus, Calder, Antony Gross, Masson, Miro and Giacometti. He was fortunate to meet Joseph Hecht, who introduced him to engraving. He rapidly became convinced that the potentialities of gravure had never been realised, and was fired with enthusiasm for the exploration of this medium as a means for original expression in the idiom of contemporary art. In 1928 he established a unique printmaking workshop, which became the world-famous Atelier 17 (the name, after its address at 17 rue Campagne-première, was chosen by Julian Trevelyan in 1933). It was to evolve into the powerhouse of innovatory intaglio-printmaking for over half a century. What was unique about it was not merely the fiery, inspiring personality of its director, Hayter, but also the fact that unlike existing workshops it was not based on master/pupil relations. What Hayter created was a workshop in which artists old and young, experienced and inexperienced, would work together, sharing ideas and united by a common faith in exploration of the medium and in its expressive possibilities. The list of artists who worked with him between 1928 and 1939 reads like a roll of honour of artists of the interwar years(e.g.Ernst, Giacometti, Miro, Paalen, Picasso, Szenes, Tanguy, Trevelyan, Ubac, Vieillard, Vieira da Silva).
Between 1928 and 1938 Hayter associated with the Surrealists, sharing their belief in the irrational source of the image-making faculty and their faith in the unconscious, semi-automatist methods of tapping it. He exhibited paintings and prints with them in Paris, London and New York, and assisted in organising the 1936 Surrealist Exhibition in London. His imagery during this period, and indeed until the mid-fifties, while wholly distinctive and idiosyncratic, was nevertheless recognisably surrealist. His themes were often mythological, typically focused on violence, anguish and war. Though he broke with André Breton over the Eluard affair in 1938(and was duly 'excommunicated') he retained his commitment to quasi-automatist creative methods throughout his life.
With the outbreak of war he returned to England and worked on camouflage techniques for a while. Debarred by injury from military service, he went to New York in 1940 and established Atelier 17 afresh at the New School of Social Research. The Atelier's exhibition at the Museum of Modern Art in 1944 brought renown, for it introduced Americans to the possibility of printmaking in contemporary artistic idiom. The exhibition toured the USA for two years (while an identical show toured South America).
Its impact on American printmaking was compared with that of the Armory Show on American painting. In 1945 Hayter, craving for institutional independence, moved the Atelier to Greenwich Village. With the GI bill at the end of the war, numerous young American artists came to Atelier 17 and through them its influence spread to print workshops and art-schools in the USA. During Hayter's decade in New York, the Atelier functioned as a fertile meeting place for European expatriates, such as Chagall, Le Corbusier, Dali, Ernst, Masson, Miro and Tanguy, and American and émigré artists such as Antreasian, Baziotes, Calder, de Kooning, Matta, Motherwell, Pollock and Rothko. As a painter, Hayter was recognised at the time as one of the founders of Abstract Expressionism. From 1930 onwards he had been searching for and occasionally experimenting with techniques of simultaneous multicolour printing off a single plate in one passage through the press. In 1946 he perfected such a technique with his justly famous 'Cinq Personnages'. Thenceforth most of his prints are in colour, although the techniques of simultaneous colour printing continued to evolve under his guidance in the Atelier over the following decades, revolutionising colour printmaking and enlarging the expressive possibilities of the medium.
Hayter returned to Paris in 1950, re-opening Atelier 17 there. It became the Mecca of avant-garde printmaking, attracting artists from all over the world and through them exercising world-wide influence. From 1957 his surrealist imagery gave way to a tachiste style, and a preoccupation with generalised depiction of light on water, wave motion and water currents dominates his work. In the mid-sixties he explored, in prints and paintings alike, the effects of undulating line, moiré interferences, rippling fields and rhythm. With age, his palette became increasingly brilliant; he used fluorescent paints and inks in large, vibrant, energetic canvasses and prints. Scintillating colour and movement became the hallmark of his work. During his last decade, figurative elements reappear in his semi-abstract imagery.
Honours and recognition came with age. He was awarded the Légion d'honneur in recognition of his services to French art(1951), made a Chevalier de l'Ordre des Arts et Lettres(1968) and elevated to Commandeur des Arts et Lettres(1986). British recognition came in the form of an OBE(1959), CBE(1968) and an honorary RA(1982). In 1978 he was elected Foreign Member of the American Academy of Arts and Sciences. Shortly before his death the British Museum purchased 400 prints for him, the largest purchase the museum has ever made from a living artist.
His two fine books 'New Ways of Gravure' (1949; third revised ed. 1981) and 'About Prints' (1962) reveal his gifts as an articulate, eloquent writer about the art of intaglio printmaking. Though he hated to be thought of as a teacher, it was his dynamic personality, enthusiasm and example which made Atelier 17 what it was, and his Socratic methods of awakening ideas which inspired so many hundreds of artists who came to work with him.
P.M.S. Hacker
St.John's College, Oxford
June 1992


home